Differences between air bonding and oca bonding
25-06-2019
Glass air bonding : Use double-sided adhesive bonding the Glass and LCD Panel.
Glass optical bonding : Use OCA(Optically Clear Adhesive ) or OCR(Optically Clear Resin) bonding the Glass and LCD Panel.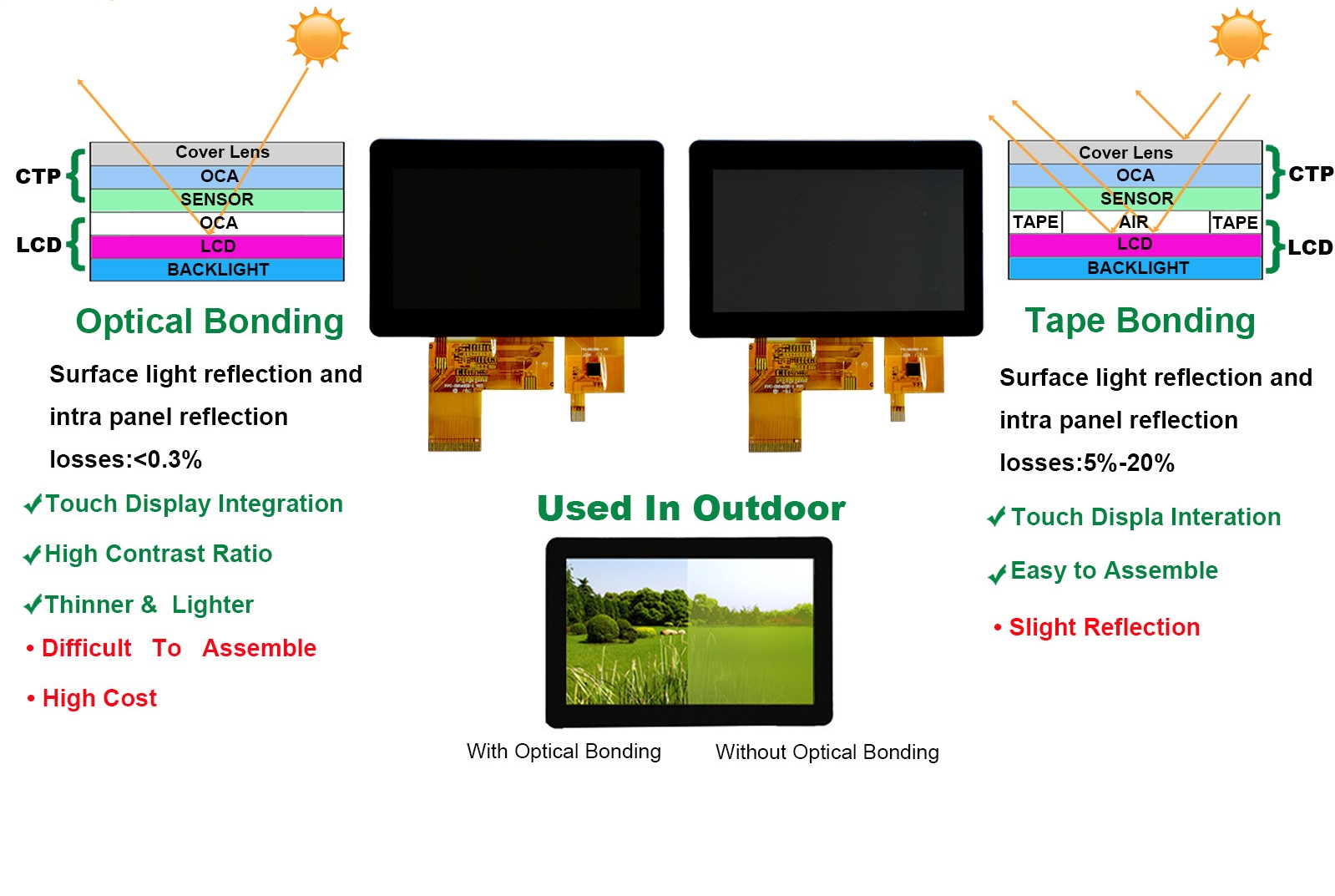 There are two main methods in bonding High brightness Wide Temp LCD glass screens. The first method is by air bonding or air gap bonding. An adhesive solution is applied between the touch panel and display using the inactive areas around the screen.
Air bonding is the most common method for creating touch panels method. This process is cost- efficient and is the preferred Sunlight Readable LCD screen creation method by other companies.
http://www.reshine-display.com/product/70-inch-tft-lcd-module-mcu-interface-40-pins-with-touch-screen

Optically clear adhesive (OCA) bonding is considered a safe and cost-effective alternative to liquid bonding. Like liquid clear adhesives, OCA reduces the reflection layers in a panel. There are various advantages to choosing OCA bonding over liquid optical bonding. OCA bonding is cleaner, eliminating the need to clean up residuals after the bonding process is complete. The process produces high yield and is reworkable. OCA bonding is thin, making it an ideal choice for rigid bonding and small LCD frames. Our OCA adhesives are precisely adjusted to fit LCD panels 12" or smaller. The material is considered a dry film, its pressure-sensitive application allows for precise and unique processing in which it fits into your industrial LCD. Although thin, bonding protects the LCD against environmental factors as well as foreign contaminants and abrasive material.
http://www.reshine-display.com/product/ips-70-inch-tft-lcd-1200x1920-high-brightness-lcd-with-pcap
Benefits of OCA bondinng
• 65% average cost savings over full optical bond
• Increased Readability
• Strengthened Durability
• High Adhesion
• UV Protection
• Bare ITO Compatible
• Whitening and Yellowing Resistant
• Outgassing Resistant
• Eliminates moisture and contamination
• Reworkable