Glass Treatments for Touch Screens Anti-Reflective, Anti-Glare, Anti-Fingerprint
28-08-2019
Glass Treatments for Capacitive Touch Screens: Anti-Reflective, Anti-Glare, Anti-Fingerprint
Touch screens have forever changed the way we interact with devices. Our next generation of youth already expects many screens (TV screens included) to have touch screen interfaces.
From an early age, we can see that the consumer experience is already being shaped by the products we introduce to our youth.
AR (Anti-Reflection)
This type of treatment involves applying a film or coating of a specific thickness to the surface of a cover lens. The film reduces the reflections on the surface by canceling out a specific wavelength of light as it is reflected back to the consumer. When a specific wavelength of light passes through the AR material, some of it is reflected back to the consumer at the surface of the AR film (R1) and some of it is reflected at the surface of the cover lens (R2). The thickness of the AR film causes the reflected wavelengths (R1, R2) to be reflected exactly out of phase with each other (see diagram 1.1) so that they cancel each other out. Thus the consumer will not see their own reflection. Instead, they will see a brighter and more vivid display.

AG (Anti-Glare)
This type of treatment involves creating a rough surface on the cover lens via an etching process. As light reflects off of the rough surface, it is scattered at different angles (see diagram 1.2) which reduces the clarity of the reflected image on the touch screen. Thus, the consumer will not see the bright glare of any reflected light source.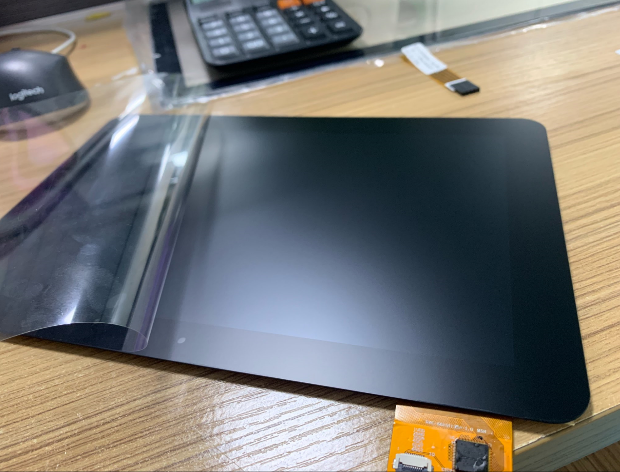 AF/AS (Anti-Finger Print/Anti-Smudge)
This type of treatment reduces the ability of the cover lens retaining oils from your finger. AF/AS treatment is typically applied by vacuum deposition or by a liquid chemistry process, which creates an oleophobic top coating. Since this layer is a chemical modification of the glass surface, it is very durable compared to aftermarket AF/AS spray-on films and it is very thin with little or no impact on the optical quality of the display.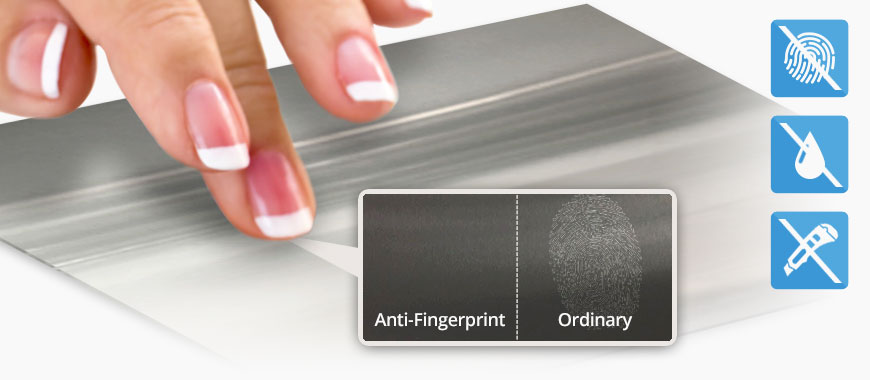 It has to be noted that AF/AS treatments do not perfectly prevent fingerprints. They only cause finger oils to bead on the surface of touch screen, which makes them less noticeable and also much easier to clean off the screen.
Another benefit of the AF/AS coating is the "feel" or user perception of the treated surface. Because the surface is smooth, the finger will glide more easily compared to a non-treated surface. A non-treated cover lens surface can cause the user's finger to stick, skip, feel like it's being dragged, or even make drawing a singular line on the screen difficult so that it becomes a dotted line.
Not all treatments can be combined, so it is highly recommended you contact your touch screen display supplier's local sales representative to discuss your needs. They can help you determine which treatment is best for your application.
Caroline
Sales Engineer
Reshine Display (HK) Technology Co., Limited
p:0755-29190292m:+86 15338759716
f:0755-29190291
a:1 st Floor,Building H and 4th Floor,Building L,Third
Industrial Park,Xinwei,Longhua,Shenzhen.
e:caroline@reshine-display.com
Skype:/Whatapp: +86 15338759716