4-wire Resistive Touch Screen 10.1 Inch With I2c Interface
4-wire Resistive Touch Screen 10.1 Inch With I2c Interface
RXA-101028-01

Resistive touch screen

Two layers

Stock for standard size samples; 3-4 weeks for mass production; 3 weeks for custom screens

500k pieces per month
Product advantages
This is a standard 10.1 inch two layers resistive touch screen with 4-wire.

10.1 inch resistive touch panel is used on 10.1 inch tft lcd display in 1024x600,1280x800 pixels horizontal type with LVDS interface ,the FPC is plug type.

In addition, we can customize 2/3/4 layers and 4&5 wires resistive touch screen according to your requirements.
Technical parameters for 10.1 inch resistive touch screen:
Product name

10.1 inch Resistive Touch screen

Structure

film(matte anti-scratch)+glass+FPC

TP AA

223mm*133.48mm

TP OD

234.2mm*145mm

Total thickness of touch screen

1.6mm

Circuit level

DC5V 1mA

Insulation resistance


≥20MΩ(25V DC)

Linear

≤1.5%


Operating pressure

50-120g

Life span with pen operation

≥100,000 times

Operational life span

≥1,000,000 times

Transparent rate

≥76%


Resistance

X:400-1100Ω Y:150-500Ω

Surface hardness

≥3H(pencil)

Lead time

Samples are available;3-4 weeks for mass production

Trade terms

EXW shenzhen

Payment

100% Paypal or T/T in advanc for samples

30% T/T in advance and 70% before delivery for mass production

Warranty

12 months

Customized

avialable
Drawing for 10.1 inch two layers resistive touch panel: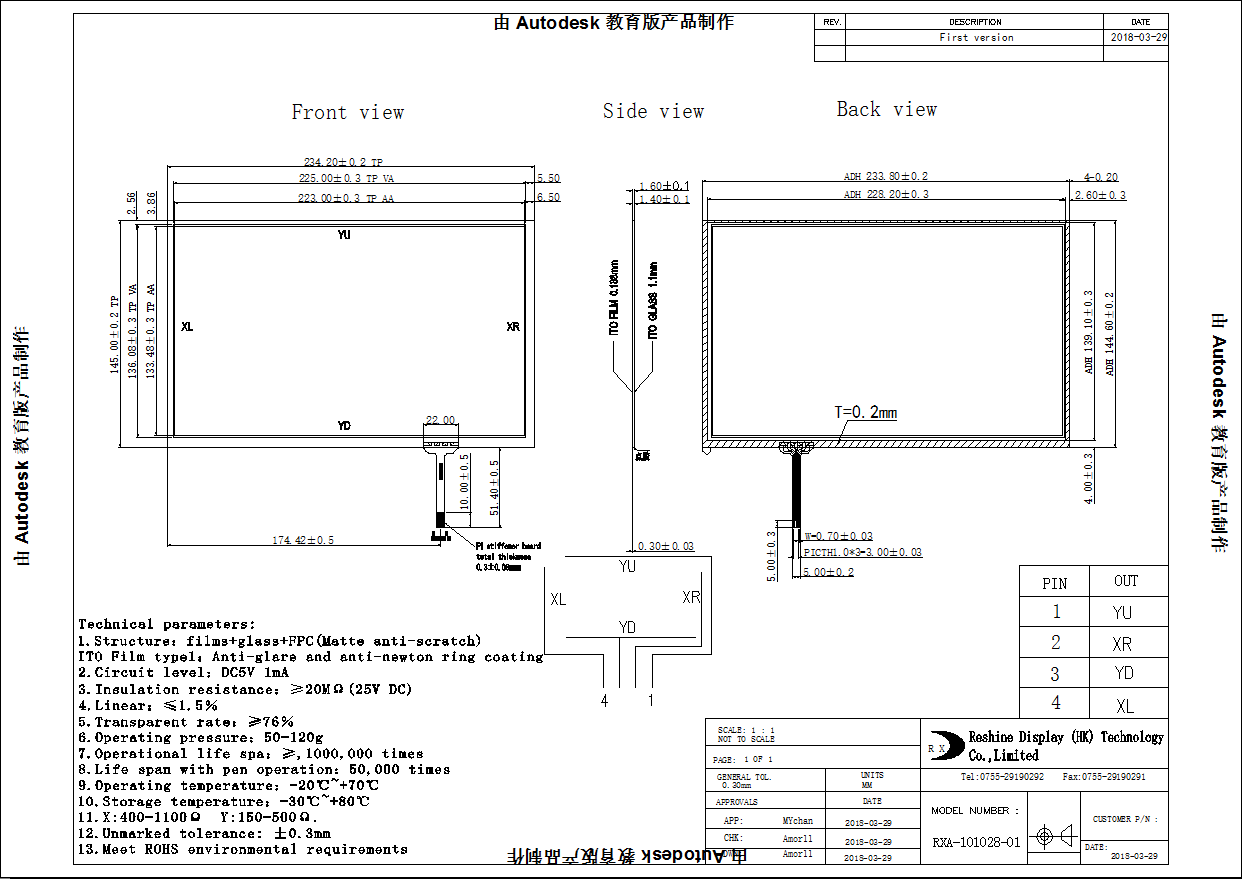 Resistive Touch Screen Technology: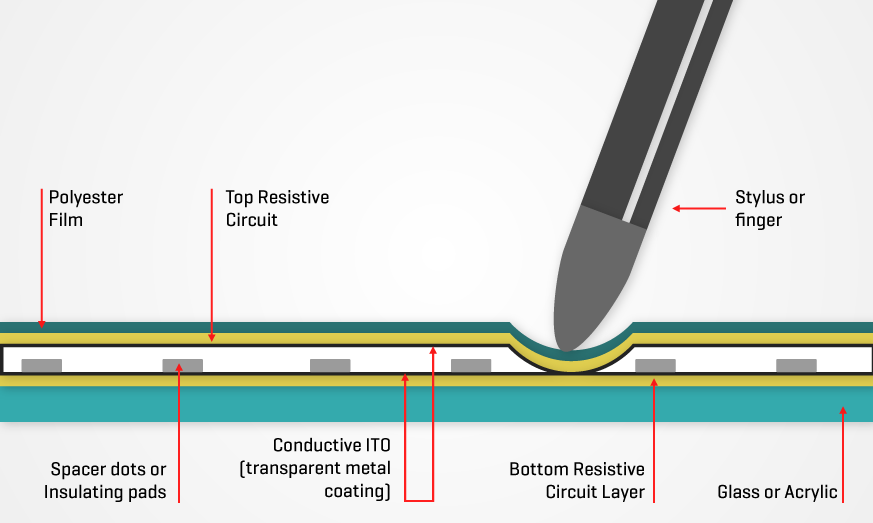 A resistive touchscreen panel is composed of several layers, the most important of which are two thin, metallic, electrically conductive layers separated by a narrow gap. When an object, such as a finger or a pen, presses down on a point on the screen's outer surface the two metallic layers become connected at that point: the panel then behaves as a pair of voltage dividers with connected outputs. This causes a change in the electrical current which is registered as a touch event and sent to the controller for processing. Resistive Touch Screens are durable and resistant to humidity and liquid spills. But they offer limited clarity, and the surface can be easily damaged by sharp objects.
Advantages of Resistive Touch Screen:
· The position of the touch is pretty accurate, which makes it good for handwriting recognition and similar usages.
· Resistive touch panels are cleaner: since users most likely use stylus pen or other robust semi-sharp objects, there are
less germs and skin grease on the touch panel.
· Low cost
· High resistance to dust and water
Disadvantages of Resistive Touch Screen:
· The screen senses pressure, this may be a bit frustrating, since not every touch is going to be recognized, only the ones
with enough pressure applied
· Lower display quality: since light has to travel through two film layers, the light transmission is lower, which results
in lower display quality
· Not too sensitive,and force needed when you touch the screen
· No possibility of multi-touch recognition.
· The surface is easily scratched
Custom Resistive Touch Screen-Make your product special: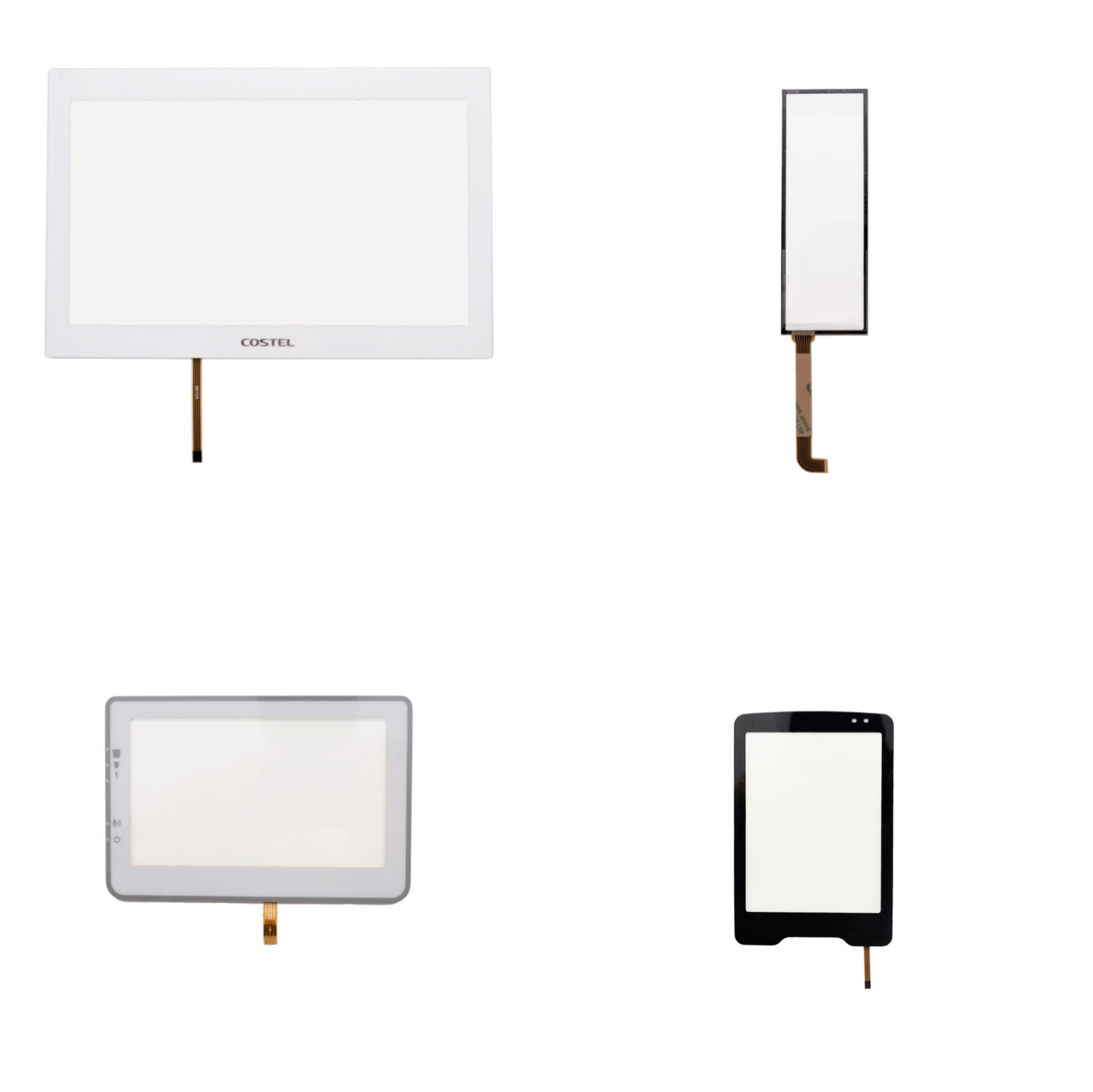 ◆Outline dimension
◆4 & 5 wire resistive touch
◆2 & 3 layers structure rtp touch
◆Length and shape of FPC
◆Logo silk print
We have developed thousands of Resistive touch screen and Capacitive touch screen solutions for
thousands of customers,so there is no need to worry about our professionalism and product's quality.
Tell us what you need.
Your creativity,we come to realize!
Air gap bonding of TFT Lcd with Resistive touch screen: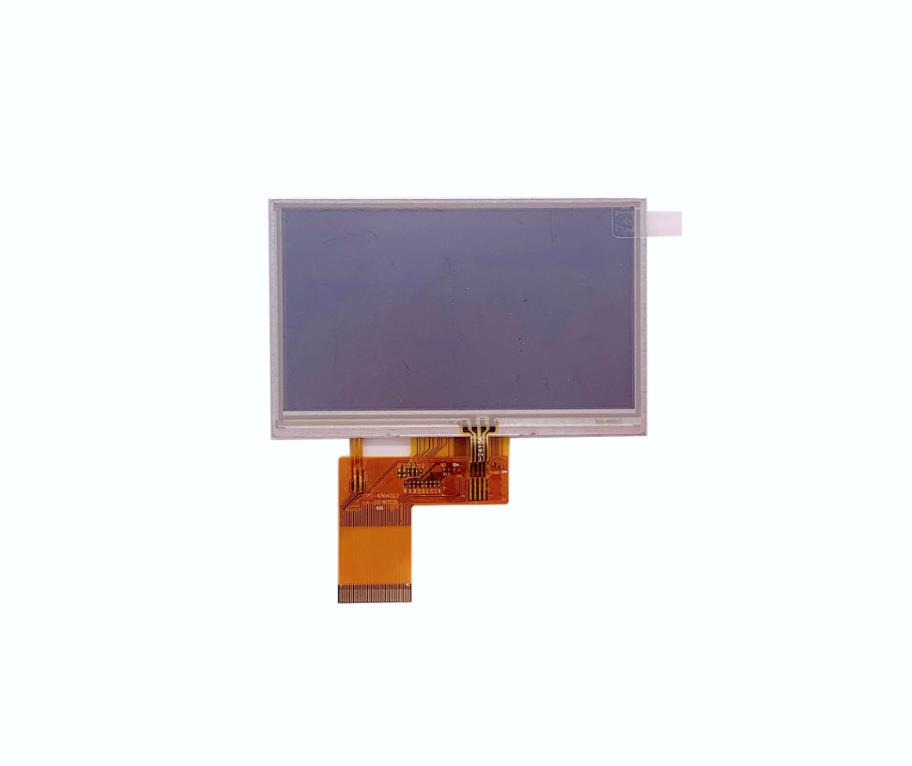 Pros of Air gap Bonding:
· Lower cost
· Faster leading time
· It is not easy to cause interference between lcd and touch screen
Cons of Air gap Bonding:
· It can be difficult to read the screen in bright light and causes the product to be more susceptible to moisture
damage and breakage
FAQ:
Q. Can you provide OEM service?
A. Yes, we can provide both OEM and ODM service,can customize both resistive touch panel and capacitive touch screens according to customer's requirements.Customized projects include the shape and size of cover glass,silk print,FPC of touch panel,driver ic replacement,etc..
Q. What is the minimum order?
A. There is no MOQ for our standard touch screens and lcds.(From 2 inch to 32 inch capacitive/resistive touch panel)
A. We deeply know that every customer needs a lot of manpower, material resources and time cost to develop a
new project, so we provide "No MOQ" service for every new project in the early stage.
Q. What's your after-sale service?
A. You will get our reply within 24 hours if there is any questions,and solutions will be offered instantly by our
professional technical team.
Q. What is your warranty?
A. 12 months
Q. What is your advantages?
A. We have some standard products (2.0 inch to 32 inch PCAP )in stock and no tooling&MOQ request.
A. 4000 m2 factory with 500k pieces monthly capacity to meet your need.
A. High quality&low price and high reliability of our touch screens and Ensure long-term supply
A. Complete Projected capacitive touch screen solutions, Sunlight readable solutions, Customization &Design, Optical bonding service.
A. Customization options to Cover glass thickness , shape and surface treatments such as Anti-Glare, Anti-reflective,
touch with gloves and water available.
A. Variety selection of touch screen design for different applications.
A. Short lead time, just needs 15 days for customizing samples.
A. Having 12 years of touch screen industry experience, we understand customer's request.
ZXXXXXXXXXXXXXXXXXXXXXXXXXXXXXXXXXXXXXXXXXXXXXXXXXXXXXXXXXXXXXXXXXXXXXXXXXXXXXXXXXXXXXXXXXXXXXXXXXXXXXXXXXXXXXXXXXXXXXXXXXXXXXXXXXXXXXXXXXXXXXXXXXXXXXXXXXXXXXXXXXXXXXXXXXXXXXXXXXXXXXXXXXXXXXXXXXXXXXXXXXXXXXXXXXXXXXXXXXXXXXXXXXXXXXXXXXXXXXXXXXXXXXX