Industrial Equipment 2.8 Inch Capacitive Touch Touch Panel
Industrial Equipment 2.8 Inch Capacitive Touch Touch Panel
RXC-GF028126A-1.0

Capacitive touch panel

G+F

Stock for standard size samples; 3-4 weeks for mass production; 3 weeks for custom screens

500k pieces per month
Product advantages
This is a standard 2.8 inch GF-structure capacitive touch screen with an FT6336U driver IC. The touch screen supports Win 7/8/10 ,Linus systems and single-touch. In addition, its glass cover, IC and FPC can be customized according to customer requirements.The interface of this 2.8 inch touch screen is I2C.
Detailed Parameters for 2.8 inch Capacitive touch panel:
Product name

2.8 inch Capacitive Touch screen

Structure

Glass+Film

Sensor OD

44.2mm*58.6mm

Lens OD

49.8mm*68.7mm

Thickness of cover glass

0.55mm

Driver IC

FT6336U

Interface

I2C interface

Surface hardness

6H

Touch points

Single touch

Operating system

Win7,win8,winCE Linux, Android

Trasparency

≥80%

Lead time

Samples are available;3-4 weeks for mass production

Trade terms

EXW shenzhen

Payment

100% Paypal or T/T in advanc for samples

30% T/T in advance and 70% before delivery for mass production

Warranty

12 months

Customized

available
Drawing for 2.8 inch G+F capacitive touch panel: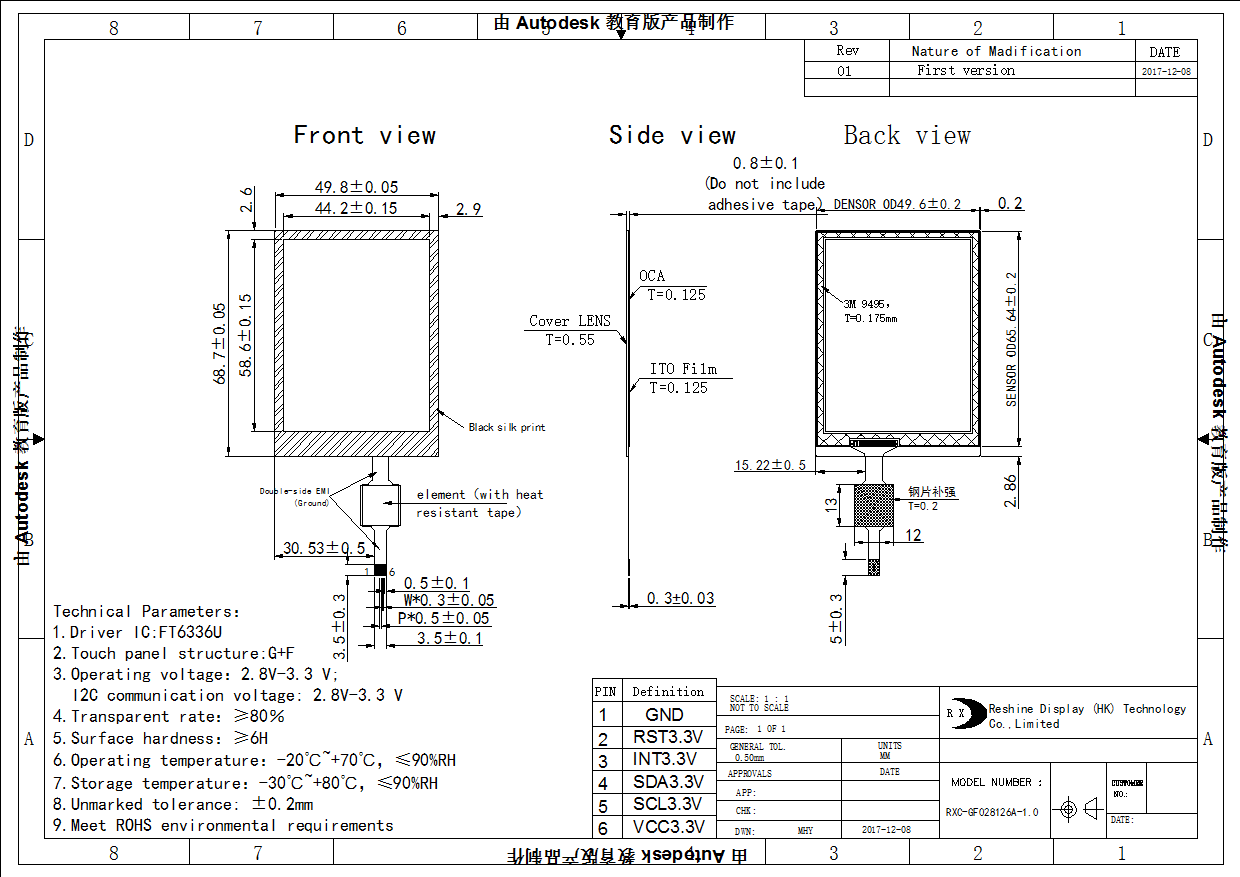 Capacitive Touch Screen Technology: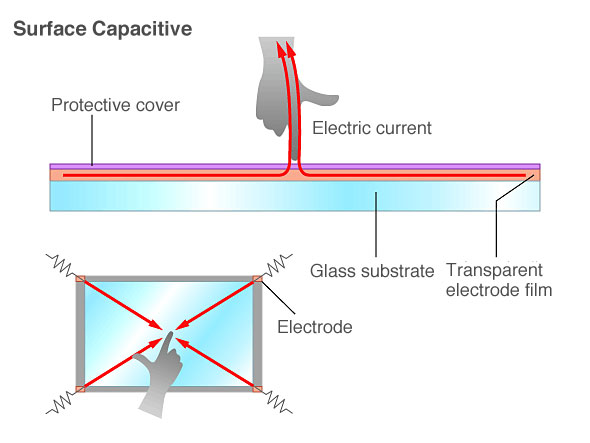 A capacitive touch screen is a control display that uses the conductive touch of a human finger or a specialized device for input.Unlike resistive and surface wave panels, which can sense input from either fingers or simple styluses, capacitive touch screen panels must be touched with a finger or a special capacitive pen or glove. The panel is coated with a material that can store electrical charges and the location of touch to the screen is signaled by the change in capacitance in that location.
Advantages of Capacitive Touch screen:
Good display quality:Capacitive touch screen looks brighter and sharper

Highly touch sensitivity and Accurate touch recognition,no force required

Supports multi-touch

No force required.

Long service life
Disadvantages of Capacitive Touch screen:
CTPs are usually a little bit more expensive than RTPs

Hygiene: since a full finger connection is needed, usually these types of screens are more stained and germ filled than capacitive ones
Custom Pcap Touch Screen:
What parts of touch screen can be customized?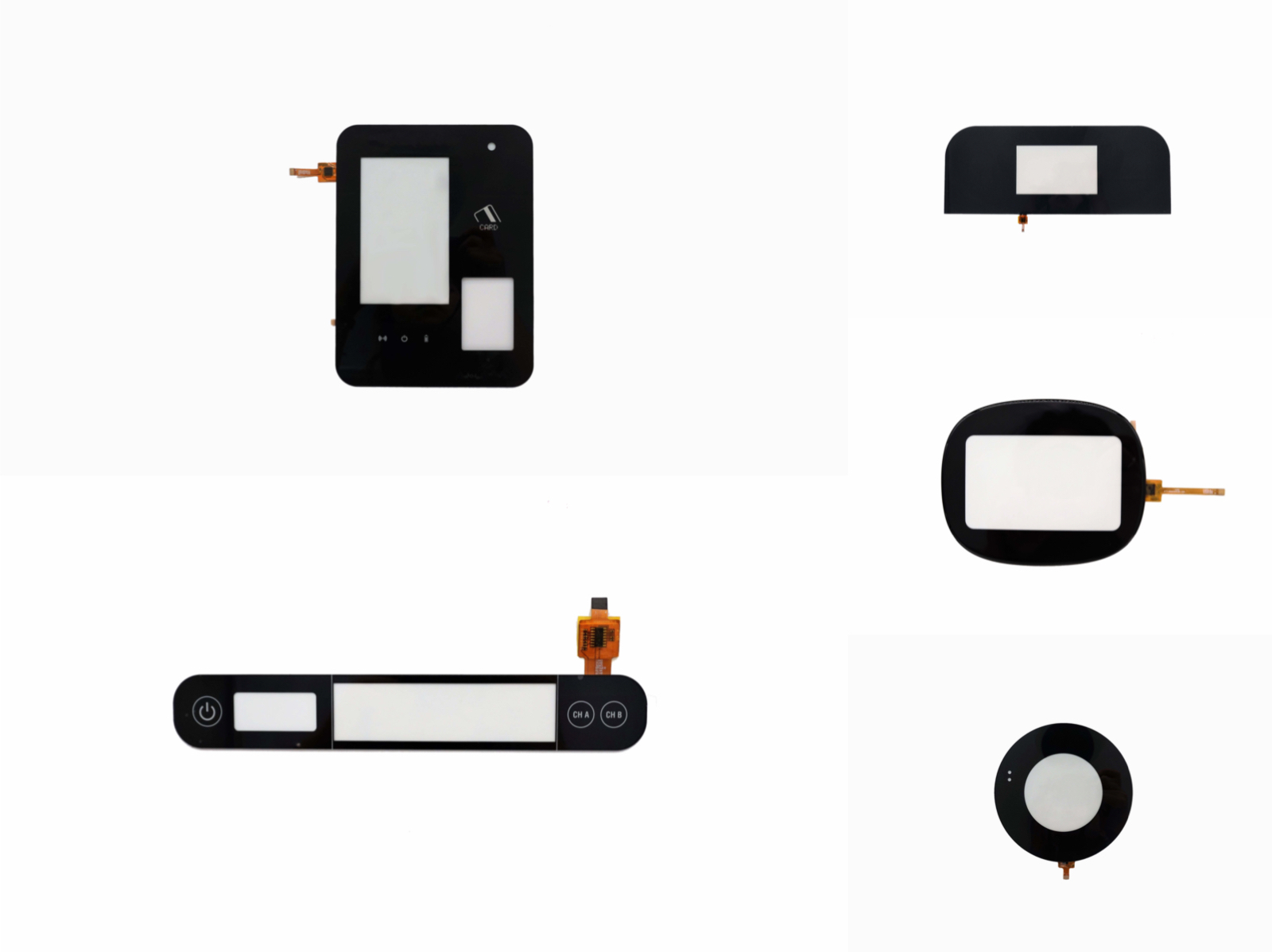 ◆ Silk printing: Company logo,color,button print
◆ Shape: Abnoemity outer dimension,holes
◆ Surface treatment: Anti-glare,Anti-reflection,Anti-smudge,Anti-fingerprint coating
◆ Thickness: 0.55mm,0.7mm,1.0mm,1.1mm.1.8mm,2.0mm
◆ Glass materials: Coening,Gorilla,Asahi,PET,Acrylic
Cover lens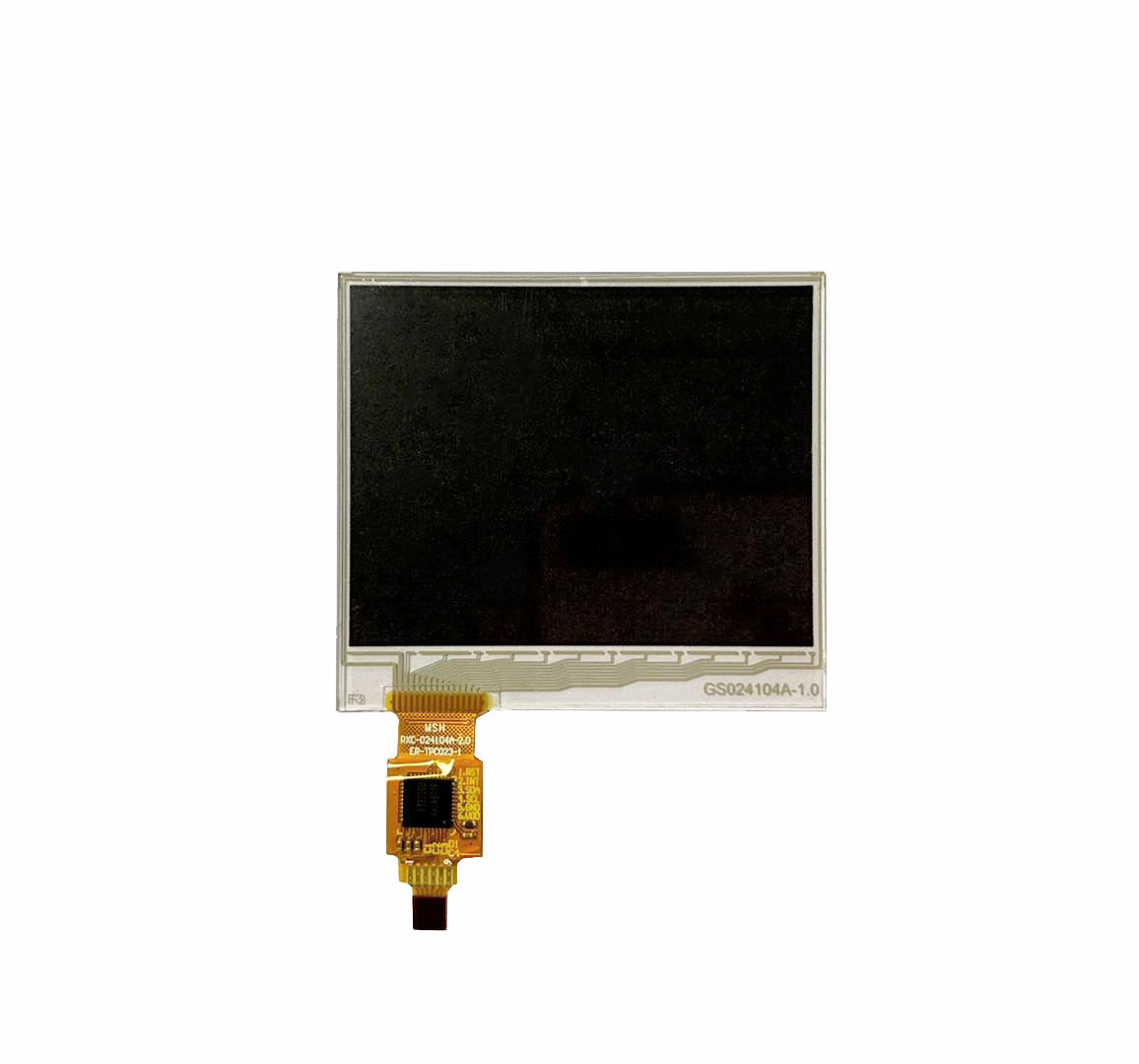 ◆ Thickness:0.05mm,0.125mm,0.55mm,0.7mm,1.1mm

◆ FPC: location,length,shape,pin number
◆ Interface: IIC,USB,COB
◆ Driver IC: Goodix,Focaltech,Cypress,EETI
Sensor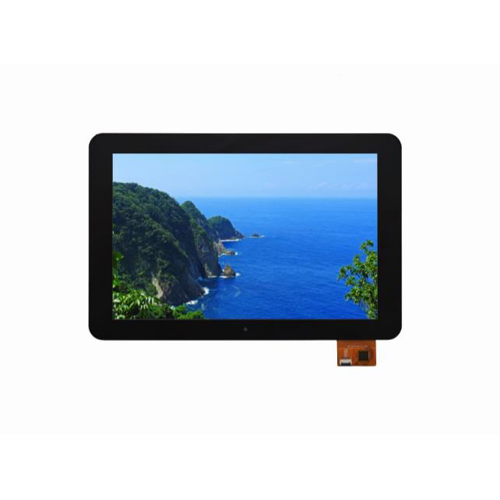 ◆ OCA optical bonding with tft lcd
◆ Air gap bonding
Add TFT LCD Display
Optical bonding of TFT LCD with Capacitive touch screen: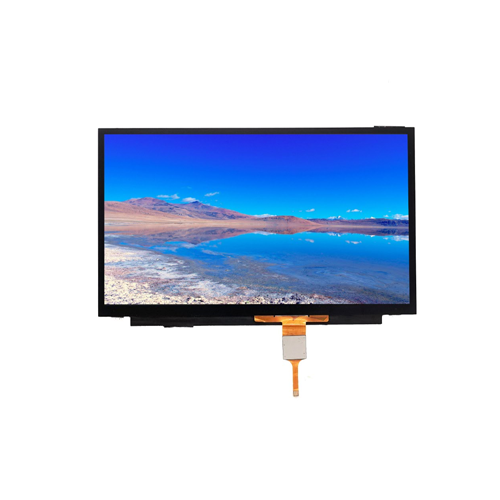 Pros of Optical bonding:

· Improved luminance,enhance sunlight readability
· Reflection prevention,improved contrast
· Improved shock resistance,enhance display's lifetime by protecting display from dust and moisture
· Condensation prevention
· Reduced parallax effect and increase optical clarity with bright lighting conditions.
Cons of Optical bonding:
· Cost higher than air gap bonding
· It is easy to cause interference between lcd and touch screen
Yes, we can provide both OEM and ODM service,can customize both resistive touch panel and capacitive touch screens according to customer's requirements.Customized projects include the shape and size of cover glass,silk print,FPC of touch panel,driver ic replacement,etc..
...more